I'm a big fan of the Shin Megami Tensei series and wanted to cosplay it with my friends. So we had a small group for Persona 3, since we had all played it and liked it. This was actually my first SMT costume, before
Hua Po
, worn and made a few months a head of time.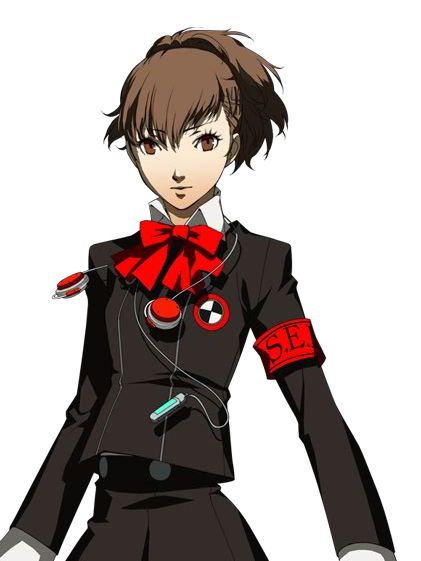 The outfit seems pretty basic. It's just a uniform shirt, skirt and blouse right? For fabric I chose a basic twill. I ended up having a good amount laying around, it wasn't extremely lightweight, but it worked well and had the right look for a uniform. The skirt wasn't really an issue. The skirt itself was just a basic box pleated skirt. For a pattern I used
Butterick 5285
and adjusted the length to what I needed.
The jacket was a challenge in itself. It was a somewhat odd shape, it didn't have the normal lapels like a normal jacket would, it had this odd box shape around the top. So I ended up taking a normal shirt pattern (
simplicity 8523
) and modified it from there. There was a lot of modification from that and this is what I ended up with.
Here's a basic pattern for the jacket and skirt. The jacket ended up being a bit large, as in not fitted after I drafted it and put it on.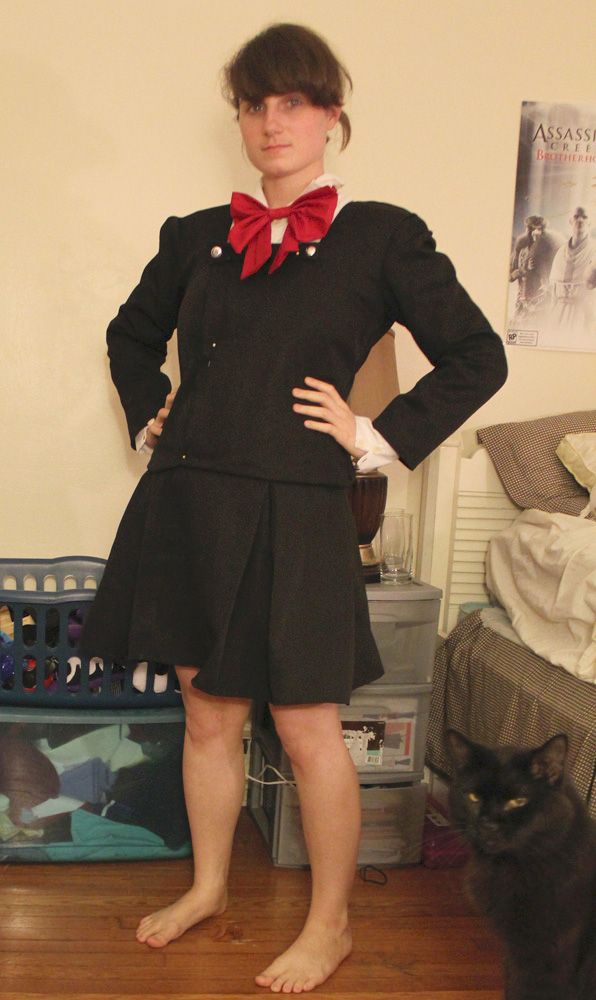 As you can see the jacket is pretty large and a bit too long from the initial pattern. I needed to take it in a bit more and adjust it so the fit and proportions were right.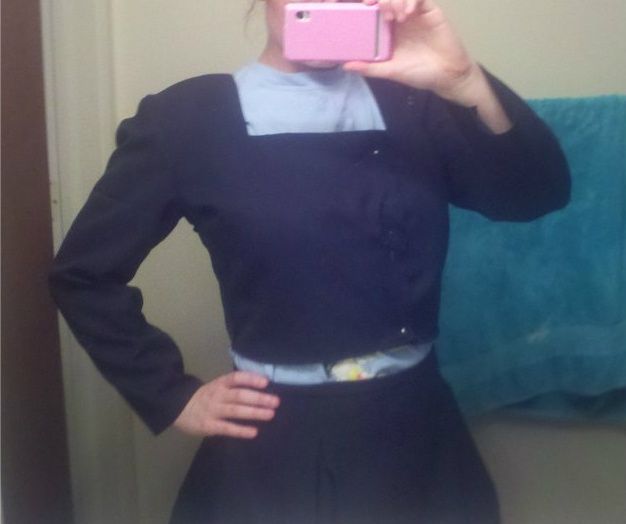 With the fitting, everything looked much better, and wasn't so odd and baggy. You can see a bit of a top panel, with some studs in place, that was just sew into place on the longer flap, so they don't really move or adjust. To keep the jacket closed, I added in a zipper. I wouldn't recommend doing it like I did...I ended up getting an invisible zipper and sewing it in so that the end was at the top of the jacket, so I need to pull the jacket over my head. I would not recommend doing that, it makes things just a bit more difficult.
The two lines on the jacket are just bias tape. The one is just sew on the right hand side, while the left one is sew as close as I could get it to the zipper, so it wasn't noticeable there was a zipper there.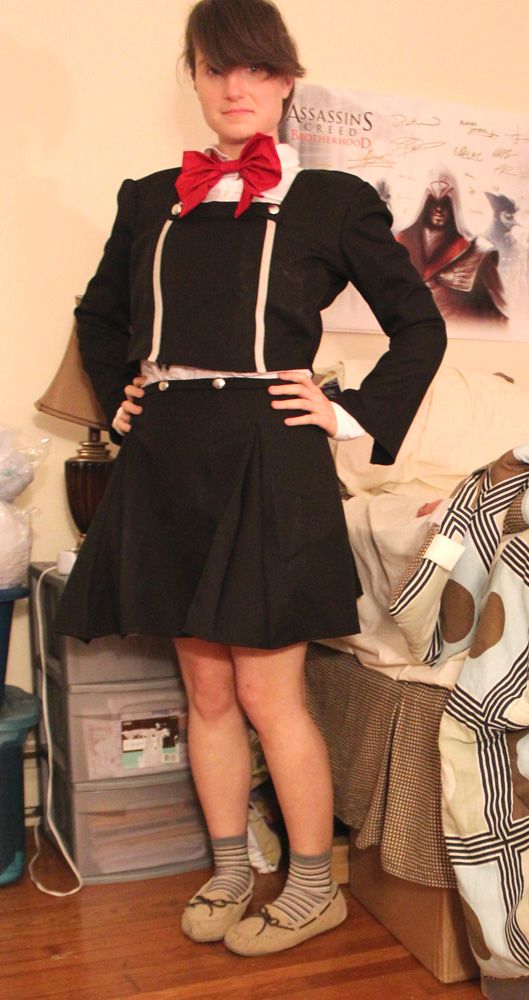 The bow was just made and then a strap was added around my neck. And the blouse was just one that I had laying around. While I wouldn't recommend this for everyone, I used my own hair for this cosplay. I figured I could get it good enough to pass. This is the best I can explain how I did my hair. I pulled my hair back into a low ponytail, twisted and pulled it up, clipping it to my head with a claw clip. The hair that hung out, I teased and pooffed out a bit so it had a bit more volume. The banged were styled with a bit of product and hairspray.
The patch, and the armband were pre-bought, and the envoker was made by a friend!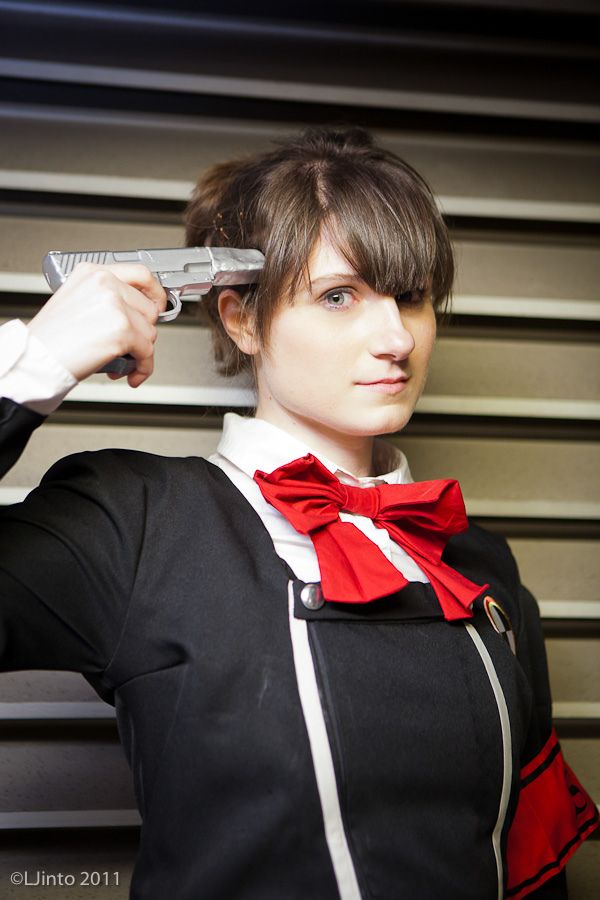 Here's a good shot, how my hair was styled.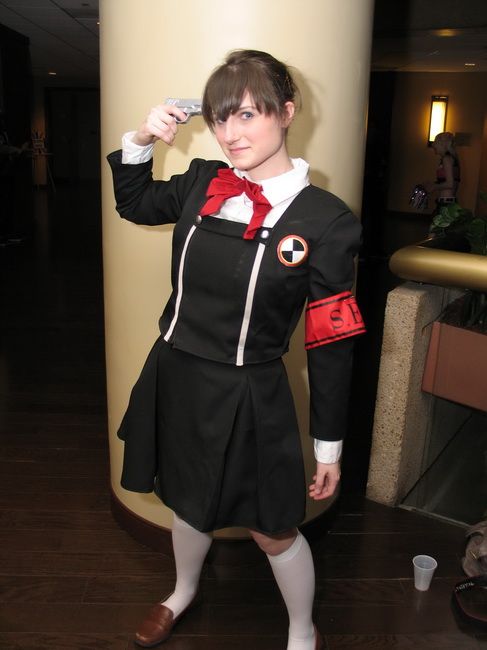 And a nice full body shot of my costume. The socks were bought from sockdreams!