I've always been a big fan of the SMT series of games, more recently the Persona series. I had put off playing them for the longest time, but finally broke down when my friend let me borrow her copy. I really liked the game, most importantly I liked Rise the most. She was just so cute and bubbly, and I felt for her backstory, so of course I had to make her.
For the top I picked a basic twill, which works for any basic suit or uniform. The base of the top is made from
Simplicity 8523
, I wanted the V neck they had and the basic shape. But the shirt is meant to be loose, so I had to take it in to be more fitted.
Looking at her reference, she had these little seam details on the top, all I did for that was create panels and top stitched them on top. They're not really super obvious, but I wanted the detail there, so it was really for myself.
The little modesty collar with the logo on it was just painted on. I used the freezer paper method and painted it on. I sewed in a little clasp so I can open it and stick my head through. The turtleneck is actually a dickie and it was not sewn by me.
The white stitching detail was all done by hand. I used embroidery floss and a
chenille needle
. A chenille needle is basically a thicker needle, something that I could use to break through the fabric with a thicker thread. I went through by hand and just stitched it in. You can take a piece of chalk and mark off the fabric by hand, but I just sort of eyed it up for the most part. The stitching goes all along the top. It surprisingly wasn't as time consuming as I thought it would be.
The sailor collar is based off of
Simplicity 2072
. Their collar goes down a bit lower then what I would need it to, so I needed to adjust it for my own top. The yellow stripe is just a piece of bias tape top stitched down onto the collar.
The fabric for the skirt was probably the toughest part. They have a rather specific color, grey on black, which I wasn't lucky enough to find. So I found a cotton print, black and white, houndstooth and I dyed it grey. After that it was rather easy to make up a pleated skirt. I used
Butterick 5285
and shortened it to the length I needed.
For the shoes all I did was paint the stitching detail on, otherwise they're basic black loafers.
The wig was bought from
Epic Cosplay
, who was rather wonderful and got my wig to me pretty quickly. And that's the details of my Rise costume!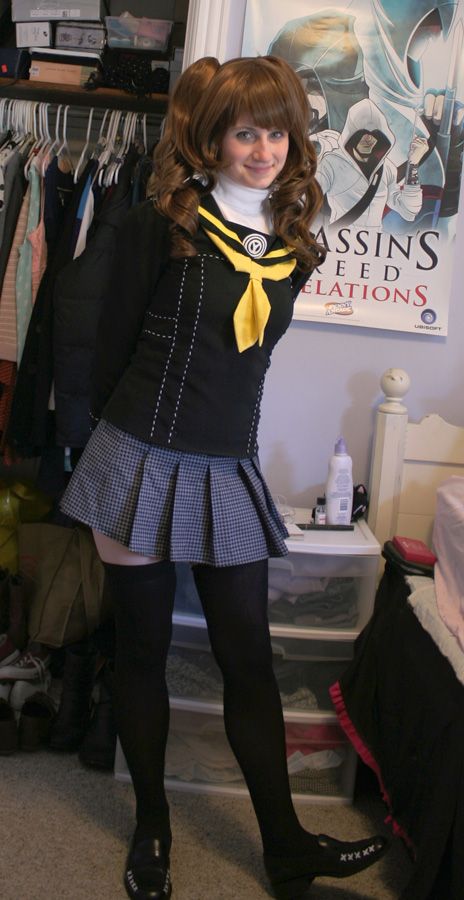 Finished Costume Shots!